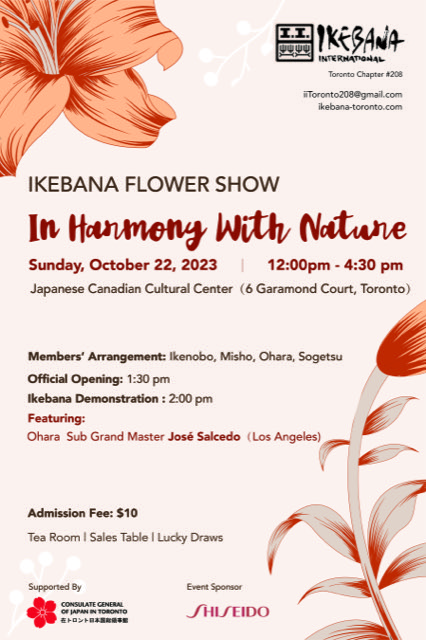 Poster design by Danny Zeng

Current slate for 2023-2025
Mitzi Yau, President
Ming-Li Wu, 1st VP
Midori Chikira, Assistant to 1st VP
Tina Hsueh, 2nd VP
Sherry Xie, Assistant to 2nd VP
Carol Legros, Treasurer
Karen Lo, Correspondence and Recording Secretary
Cecilia Li, Assistant to Secretary
Danny Zeng, Assistant to Secretary
Welcome to the Ohara Toronto Chapter


Upon receipt of the Letter of Appointment from Headmaster Hiroki Ohara, I am accepting the position of President along with the approved new board members and their assistants to serve for the term of May 2023 to April 2025.
Am thankful for all the hard work the immediate past President Ming Li Wu and her board members have done to keep the Chapter running during the tough times of the pandemic.

With the declaration of ending of this global health emergency from Work Health Organization, we are all heading to a time for a new plan.

A Chapter with 'Vitality, Enthusiasm & Harmony ' is my goal to achieve during my Presidency with the support and help from the current Board.


Planning to celebrate our 50th Anniversary event next year 2024 to show our strength in diversity.

Looking forward to our Chapter entering a new era with the contributions and dedication of our members, volunteers, ikebana friends and our extended ikebana family.

Mitzi Yau

President (2023 - 2025)